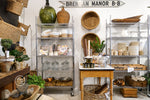 Winter at Oliver and Rust
It's a new year, a new store setup, a fresh look, a fresh concept and we are ready for another year of success.
Being a shop owner in our online world means that I have to work my brain overtime trying to make the experience worth the trip of getting out of your pajamas and getting into the car. When figuring out where we want the store to go in the coming year, and using the past four years of selling as "data", a few things have become evident. It's a learning curve that any person hoping to open a retail store must endure and the only way to do it is get on the rollercoaster and have fun, plus you know, don't puke.
My shop has evolved since the very beginning [and on our anniversary this year I will likely do a fun tour through the years as it is amazing the things this little store has done already] and it has become very apparent that most of our loyal customers and the customers that support the store through shopping are here for vintage, pillows, plants & their respective containers and candles. Always little other bits thrown in but those are the 4 biggies. We are focusing on those things this year more than ever and have redone the store for our winter season to suit this finding.
A moody and rich plant filled take on winter.
Enjoy.
Much of the furniture got rearranged. Jill listened to countless plans as I spewed them forth trying to figure out where our new fixtures would land especially as I started hunting some great vintage furniture pieces. 
The back wall is home to our linen pillow collection. The "staples" we call them. The pillows that carry you through the seasons and never go out of style.
I make them in 4-5 colourways depending on the season in 3 sizes. Some can be found below. 
1. oatmeal linen    2. flax linen     3. white linen
The white table used to be in the center of the back of the shop. It was planned for a new life of retirement in the basement but, Trevor and Jill beat me up doing the redo to leave it here instead of the oak table that was here and I will 100% admit they were right. The white table is long and skinny, fits underneath the "island" lights and brightens the area while allowing foot traffic. They won and I'm happy I reluctantly listened.
 The metal shelves that lived behind the white table above got relocated along the back wall and house many of our great kitchen pieces and vintage bits including antique dough bowls I was finally able to source in more normal sizes.
 This was the weirdest move. This very old toolbench has lived in one spot in the shop pretty well since opening day but we have a plan that included furniture [that has not yet arrived] at the front that meant it needed a new home. It moved straight to the back to home our myrtle collection AND to showcase one of the vintage rugs. I have finally found a reputable gentleman to work with to source some fantastic vintage rugs from Turkey and I am super excited to be sharing them in the store as people have been trying to buy the ones off the floor for as long as I can remember.
Much of the great foodies items are located in the back of the old mail sorter to allow people to really peruse the selection and get hungry as they do so.
Now you can see the view through this area. This was the "kitchen" zone and is now a seating zone. I found an amazing swivel vintage leather chair that started this idea rolling. Finding great furniture pieces that can grow with a home has been on my list for awhile so time to try it out. This store is only so big so we can't get too crazy space wise but the open view is really working for me right now.
 Currently, no view in the store is not covered in a layer of green. Plants, plants, and more plants. The selection constantly changing depending on what I can find with my growers as well as what can grow right now with the constant black days we've been having. The shop is on a hard pass with succulents right now. Our weather has not been conducive to the sun loving plants in the store with my team and I having pretty green thumbs with grow light assistance, never mind sending them home with people just starting out and not wanting to fail.
 The front of the sorter is bath and body. So much goodness for landing oneself in the tub and relaxing. I have been testing out some of the products from a new Ontario line we just brought in and am loving the grapefruit facial oil as well as the body whips.
Meet Eugene. He is a very old taxidermy deer. Taxidermy has always fascinated me. I know it is not for everyone but I am no hypocrite. Trevor and I are not heavy meat eaters at all and I try to source local or ethically raised but at the same time, I also don't have bambi syndrome either. This handsome fella is over 50 years old and will keep lookout over the shop. Trevor built me a wood frame that I "mossed" for his ultimate green home.
Jill refers to this area as our library look. We added the leather pillows, books, one of our super popular candle lines, orchids, pottery [with more pieces to come] and all we needed was the port and cigars.
 Trevor suspended one of our huge dough bowls after I asked nicely so that we could currently fill the bowl with pillows as a display. I'm sure at some point plants will make their way up there as well as many other things.
 Oh the pots. We have so many great ones right now in all the best neutrals to suit just about any space. Modern, traditional and eclectic. 
Another new and notable is our pegboard got a little paint treatment. It has been that fantastic green for quite awhile (and I still love the green) but the black just allowed us to do more with the board itself and really grounds the space.
Well I hope you enjoyed your little tour. It's impossible to fit every area and all the products into a single blog post but you get the general feel of what I was going for.
Have a great weekend everyone,