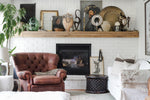 Before & After Fixer upper; because who doesn't love one of those?
If you've been around this blog for a long time,
[like a long time.... this thing is 13 years old now]
you may remember a couple years ago Trevor [Mr. Oliver and Rust] and I hit a score on the good old Kijiji.
We found leather Ralph Lauren chairs in serious need of love. 
No rips or tears and in good physical condition but the leather had been absolutely baked in a solarium on both chairs for years. It was dry and so faded. They had done no conditioning of any kind on them over the years.
I did a post about these chairs back then about a product 
I had found called leather honey and while it worked, it didn't hold as well as I would have hoped. On a normal leather product with mild wear it likely would have been fine but it just didn't soak in and stay with any longevity.

Hence, today's post.
My furniture swapping game in our house has been going strong this summer. We have plans to replace our sofa in our living room with a grown up sofa not from Ikea. As wonderful as that sofa looks it is NOT comfortable for 2 people to sit on all the time. That is a story for another day though as like everything we are waiting for it to arrive. When I thought to bring one of the big leather chairs upstairs it was very evident that the leather needed some serious care again.


My creepy phone must have been listening to me as I started seeing ads on instagram for a leather product made in Canada from beeswax.

In the words of Kevin Mcallister, we'll give it a whirl.
This product is called
Leather Better
and I purchased it directly from their website.
It's made in Canada too.
This is in no way a sponsored post, 
I'm just sharing along another found product in the home decor industry you may find helpful in your life.
This is the Before of the seat cushion and the chair with my lovely model.  Sammy has decided this gigantic chair is the perfect size for the smallest member of our family. 
This is also a second type of before as like I said, I had already conditioned them a few years ago so this isn't even that bad.
This is the after of the seat cushion. The right after.
I had just finished and put it on the floor in the same spot so you could see it.
The beeswax style paste went on super easily with a dry rag and we found it took a good week to dry properly and soak in on furniture. We didn't over do it but this chair was dry so it needed a little extra elbow grease.


Immediately after, the tone of the leather was scary dark and I was having a *mild* panic attack about it. Staring at it, walking into the room at random times to see if it had changed. After about a week of drying as mentioned it has come into the colour the chair should be and looks like a gorgeous aged leather again so fits in with the other 2 chairs already in the room.
Let's get Sammy back in here to showcase his new throne, excuse me..... chair. You can see right on the front of the seat where he helps himself up with those super short legs of his. Little bugger.
We did this about a month ago now, as before I recommended another product I wanted to make sure it was soaking in and lasting as it claims.
The entire chair is staying the medium brown tone. I can see on the top of the chair that it is still lighter but to be fair this chair was almost bleached white when we originally picked them up they were that far gone.
Expecting a paste to work a 100% miracle might be slightly unrealistic.
Construction wise these chairs are solid. Something to be said for investing in quality. Not always affordable for everyone but, it does make a difference whats underneath our furniture, beds etc. I feel like we are getting to that phase in our life where we can slowly add pieces we plan to own for a long time that are a bit better quality hence the couch conversation. We worked with what we had, made a house a home, thrifted, bought things off kijiji, built our own knock offs and purchased what we could afford and now we getting all growed up. Not that any of the previous things will stop it's just nice to be able to purchase a piece of furniture that will stand some time and not need to be replaced constantly because it can't stand up to wear.
Getting in nice and close now so you can see how conditioned the leather appears now without the cat model.
The main reason for the conditioning other than the obvious is we have 2 other [also thrifted] club chairs in the room that needed to "blend" a little bit better. The conditioning has brought them all into the same tone group. 
The mate to the big chair stills live in our basement and I have not yet fixed it until I knew how this would fully turn out. It will be on the conditioning block come fall when I start mucking around with our basement again. We don't spend much time down there at all in the summer time.

Have a great day everyone,