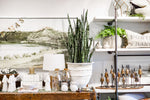 Christmas 2021 at Oliver and Rust
And just like that the Christmas season came flying into our radar like a bat out of....... well you know right where that bat came from.

This year has flown by quicker than most. The difference in how we need to operate, the way I need to plan and buy has made all of this year into a complete whirlwind. Planning and attempting to put together a Christmas theme in the store was no different. Pivot and twirl, spin and twist and with a flash of glitter, this little space has turned into our natural winter vintage wonderland.
It was probably not what I had in mind in January when I start buying for the next retail Christmas. It might have turned out better. Not getting my first, or second choice made me get a little more creative and I love the items that came in this year to share with everyone.
Welcome to Oliver and Rust Christmas edition for 2021.
When doing the interview for the magazine article this year ( Which was a whirlwind of its own. If you're curious about the inside of my home the December 2021 issue of Chatelaine magazine is on newsstands and gives a peek into my personal winter wonderland should I not get the photos up here),
the editor asked me what I thought the trend was for this holiday season in the store and it was probably the only question I really stumbled on. I have a hard time answering trend questions as I don't 100% tend to pay attention to them.
Oh like any other retailer or home enthusiast I know what they generally are but, I do not plan the shop or my home around them specifically.
Especially at Christmas time.
My holiday decorations at home have been collected and used in our home from gifts in my bedroom as a child, to first years of marriage right up to the new items I scooted home this year.
Layers built on layers.
For a season that is shorter and so built into traditions, I like the idea that the decor I put out doesn't follow a trend and therefore need replacing every year. I try to treat the store the same way. We don't often carry the same items from year to year as that would be boring and it's not smart business sense but the items tie together from year to year. Opening those bins and boxes regardless of what you have should be able to work together whether we bought them this year or 15 years ago.
Colour schemes can change slightly of course but, an entire redo is not in my game plan at home or in the shop.
Maybe you share this sentiment, maybe you don't....
I just find it interesting how quickly some trends come and go and now as I think through the sheer struggle everyone in my business is seeing to get things to their door I think it's important to shop with intention. I guess I've always tried to do that which is why I love vintage so much but this year has really slammed that concept into focus.
I'm not preaching shopping abstinence [duh? that'd be silly considering my chosen occupation] just more a shopping intentionally with more than the next few months in the window.
While we have had this lovely little chat, I hope you have enjoyed wandering around the extension of my home and the things that have struck my fancy over the past year to share with you for the upcoming season.  There's always something new showing up and I often don't even know what it will be anymore as the timing of orders is like throwing darts at a wall way off in the distance. We are just adopting a good sense of humour about it at this point because what else can you do?
Have a wonderful day everyone,