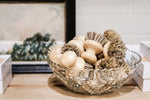 Winter in the Oliver and Rust shop
The winter version of the shop all cleaned up for 2022.
As fun as it is to have everything glitzed up for the holidays, the cleanup and reprieve is always so so welcome.
Back to the plants. Cleaning out the closets and preparing for a new year.
This year, the same as the past couple started out not as everyone intended least of all every business owner, mom, teacher, care giver, child and the list goes on.
Month one is almost under our belts though and we are inching ever so slowly closer to longer days, warmer temperatures and hopefully less stress.
While we wait for all of that to come and we snuggle deep into our homes,
the shop has transformed into a comfortable oasis of plants, pillows and candles. The comforts to get through our harsh winters.
Just a peek inside for today,
Thanks for stopping by,