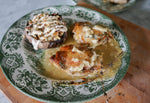 Vampire Chicken with pine nut goat cheese portobellos
It's been awhile since we have done a recipe here on the blog so we came back with one aptly worded for Halloween.
This recipe should also be noted that it can be made totally Keto friendly if you or anyone dining at your home is doing the Keto diet.
These recipes were adapted from ROAST by Lousie Franc, a cookbook that recently came into the shop.
It should also be noted this was not the original name of the recipe in the book. 
The book calls this 40 cloves chicken, so we renamed it Vampire chicken for obvious reasons. Everyone at your table needs to be eating or you're going to smoke them outta the house with your breath.
Our lunch included the vampire chicken paired with the Roasted Portabello mushrooms with goat cheese and pine nuts.
Check the timing of recipes as the chicken cooks quite a bit longer than the mushrooms however the pairing was delightful.
In an appropriate quantity this meal is also super easy to prepare and would serve a crowd wonderfully.
Vampire Chicken; Chicken with 40 (or 14) gloves of garlic & lemon garlic gravy
 [recipe adapted to serve 2]
 4 free range chicken thighs, skin on and bone in 
1 tablespoon of olive oil
2 tbsp butter
190 ml (¾ cup ) white wine, or just a big ole chug a lug
250ml (1 cup) chicken stock
14 cloves of garlic, peeled [significantly reduced the garlic as we were only making this dish for 2]
8 sprigs of thyme
1 bay leaf
1 lemon cut in half
1 tablespoon plain all purpose flour
crusty bread to serve
Preheat the oven to 320F convection
 Pat the chicken thighs dry with paper towel. Place a dutch oven with tight lid, large enough to fit all chicken flat, over medium heat
 Add olive oil and butter to pan. Place chicken, skin down, and brown for 5 minutes. Turn and brown the other side for about 3-4 minutes. Remove to a plate. 
 Drain the excess fat from the pan. Reduce the heat, add the wine to the pan and allow to simmer for a few minutes.
 Stir in the stock and scatter a handful of the garlic cloves, then return all the chicken to the pan. Add thyme sprigs, bay leaf and lemon halves. Tuck remaining garlic cloves around the chicken. 
 Remove from heat. Cover with a double layer of aluminum foil, tightly sealing the edges. Place lid on. Place in oven and roast for 1 ¼ hours. 
 Remove the dish from the oven. Transfer the chicken and garlic to a serving plate. Leave roughly 10 cloves and all the juices in the pan. Cover chicken loosely with foil to keep warm. 
Using the back of a spoon or potato masher, mash down garlic cloves. Place the dish back on medium high heat. Mix in 2-3 tablespoons the juices with the flour until smooth, and then add to the dish. Return the chicken and garlic to the dish. Serve with crusty bread to mop up the garlic juices. 
** and commence lip licking**
                                         Roasted Portobello mushrooms with goat cheese and pine nuts
[original recipe served 4, we served 2 here]
 2 large Portobello mushrooms
1 ½ oz butter
1 French shallots, finely diced
2 garlic cloves, crushed
1 generous teaspoon of picked thyme leaves
1/4 cup panko breadcrumbs [one mushroom had breadcrumbs omitted for Keto]
200 g goat cheese
¼ cup pine nuts
 sauce
 Red Pepper Aioli from the shop.
Preheat oven to 350F convection
Line a baking sheet with parchment or use glass pyrex dish
 Remove the inner stalks from the mushrooms and chop finely. 
 Melt butter in frying pan over medium heat and sauté shallots, garlic and chopped mushroom stalks until softened. Stir in thyme.
 Add the breadcrumbs, goat cheese, pine nuts and shallot mixture. Combine.
 Brush the outside of the mushrooms with olive oil. Divide the stuffing between the mushrooms, patting it down firmly to keep in place.
 Transfer to baking tray and roast for 15 minutes. Serve warm with sauce on top. 
So there you have it. A wonderful meal fit to keep the vampires away that is easy prep and a treat to enjoy.
Empty plate for proof.
Have a great day everyone,