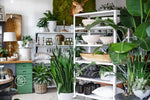 The Patina style I was going for
YES.
I got the pictures taken.
Let's just say this summer has been busy and in between the busy moments we have been too "busy" enjoying our new space to give two farts about taking pictures and blogging. Cold hard truth there but, sometimes it's just splendid to relax. I'm not good at it  [relaxing] I'll fully admit but after we accomplished our backyard space this spring, I promised Trevor and myself no new projects for the summer so we could enjoy our time. I made ABSOLUTELY no such promises for the fall and as that time nears our house is set to get some major changes. Ones we have been saving and planning for some time now. I is vewwry eexcited.
And I'm hoping to share a lot of the process here.
For now I am sharing our patio and the completed backyard renovation we embarked on in the spring.
The patio itself didn't change much from previous years however this is for sure in my 10 years of blogging the absolute latest I have shared it. Everyone is moving on to pumpkin spice and tartan blankets and here I am screaming bring me another gin from my patio lounger.
Whatever, to each their own.
As with the last couple of years our patio gets a ton of green plants and not many flowers. The flower I did go with back here was a white dipladenia and let me tell you...
That is my new go to flower of choice and I will be riding that train next year as well. Water and voila, shade to sun they are just overperforming and showing themselves up like crazy.
I also found a use for my vintage tulip tray on the wall and started using it to hold our towels to dry.
The above are the dipladenias.
Our patio is surrounded by gardens so it's hard to get a perfectly clear shot of the plants in the containers but you can see the grouping to the left.
Instead of chairs at our table we converted one side to a bench for the little misses.
She can climb up and eat or colour on her own and not have to pull out a big chair.
We hack back the ivy around our pond every spring but at this time of year it is starting to grow around everything again and makes it look like our pots are growing out of the ground.
The table eating area sits adjacent to the seating, lounging, reading area. The fiddle leaf fig in the corner came outside to see if it would become a bit of a better performer for the summer as this one has had a bit of a dud year and is turning out to be a bit of a dud so his future is a bit grim right now as I have to make the choices of who gets to return to the house after summer and who is getting the boot.
And now to our additional outdoor space:
As a refresher this is where we started at the end of April [the starter blog post is HERE].
Lots of grass.
This week.
We got a late start on planting so, some of our vegetables got a stressful start and aren't performing the way I hoped but we have had tons of cucumbers, zucchini and tomatoes so still a success.
Right behind this view is our patio. The whole area is basically an extension of our outdoor space. We joke that we have enough seating outside for a wedding but we circulate between our outdoor spaces and don't spend much time indoors in the summer. I work on my computer and phone from these loungers some nights and Trevor does paperwork on the back table. It's a beautiful thing living in a 4 season area but when the season calls for it the indoors are not calling my name.
This old concrete goose is Sid. We found him in an antique mall on one of our junking trips and he looks perfectly handsome back here.
And maybe our favourite and cheapest addition of the year. We have been saving for an inground pool for years but until that concept comes into reality, we found a grey blowup pool at Target and made that baby work into our landscaping and we have spent countless hours sitting in this thing cooling off. I found a little vacuum to keep the bottom clean that runs off our garden hose on Amazon.
All in all it's been a slice of paradise and a wonderful summer season.
Thanks for stopping by today,
Welcome to the Oliver and Rust blog.
This blog is written by Meg and includes tales of the renovations of her home and the shop she owns in Fonthill, Ontario. This blog goes back nine years, much before the shop was born if you are in the mood for reading, photos and some funny stories. The home you see and the decor inside belongs to Meg and her husband Trevor, the owners of Oliver and Rust.
If you are new here, welcome. We are glad you stopped by.