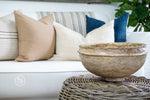 The August Dunes Collection
It's the second pillow collection of the summer and I am super happy to introduce the August Dunes collection.
Where each piece of fabric is chosen to coordinate with one another.
They coordinate quite well with the last Summer Coastal collection too.
There is a lot of great neutral tone, a little bit of fringe and a whole lot of california cool style.
Vintage textiles from around the globe that provide a great mix.
Left to right: Lester,  Cecille,  Ed and Moe
 [don't ask me where we get these names, we do have fun with it though] 
Even though there is a good amount of blues, they are the kind of blues that tie in great with white and black.
A Pretty good assortment view of the collection. 
1.Moe                  2. Dark blue grainsack          3. Ed
An overhead view of the process behind setting up the shot.
The staple linen collection has really taken off in the shop and has been gradually added to over the past year since it was introduced. We are up to 7 great neutral colour tones. The above is the latest to join. Named Terra, this colour is a cross between a warm brown and an almost terracotta colour. It works so wel with so many other colours and can warm up cool couches and medium greys.
 1. Lester            2. Ophelia     3. Blue Brown Grainsack
A shot of the center of the store with a few of the new pieces. It has been awhile since I've done a shop tour on the blog so I busted out the camera this week and took a bunch of photos to share with you next week.
Thanks for checking in 
Have a great day,