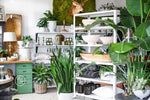 End of summer Oliver and Rust shop tour
It's been a little bit since I have done a little wander around the shop in these parts so lets do that today shall we?
We just released a new pillow collection about a week or so ago and the store is looking spiffy. 
Yup I said spiffy.
Summer is one of those seasons in retail where there isn't much of a theme. Plans for fall [the shortest season in retail at only about 6 weeks long] and of course the mother of all seasons the Christmas sparkle season are in full swing but for now we must stop and enjoy the simple hazy days of the end of summer.
 So many great bits, loads of blue which honestly I find not to just be a summer colour anymore. Maybe it wasn't always and has now grown on me into other seasons. For me I feel like with the popularity of vintage rugs that almost always have blue in them somewhere the deep blues and indigos have moved out of just summer and into all the other seasons as well. It's different in a 4 season area where we don't just live at the beach all the time or have 1 month only of warmth, so the "vibe" in our homes is constantly changing with the length of days and outdoor views.
Thanks for wandering around with me.
I did take these photos a couple weeks ago so many things have moved or changed again, as is the nature of retail however this suits to remind me for blog purposes and give you a feel for what the shop looks like for the end of this lovely summer.
Have a great day,