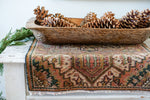 The Fonthill Christmas house tour: Oliver and Rust house
Three blog posts in a week? 
Who am I?
Last weekend the store was invited again to participate in our local Christmas tour of homes.
Local businesses and decorators are asked to decorate a home for the season and 100's of people purchase tickets to tour and view the homes on display.
The home of one of my customers fit this year's bill for a modern vintage inspired Christmas. I spent a couple days bringing pretties from the shop and home to make everything festive and cheerful. The furnishings and main pieces are the home owner's and the decorative aspects for the most part are Oliver and Rust.
Here is the result.
Enjoy,
Thanks for joining and touring,