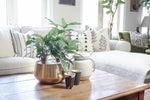 Hey everyone!
It's a little spring shake up here for you. Simple and easy touches to flip your home for a little bit of a refresh. We used my living room at home to show you how easy it is with just a few things to make your room look completely different.
If you've already done the hard part of investing in the big pieces in your room or even if your haven't and you have the hand me down couch, adding a couple throw pillows, a plant and maybe one or two easy swap out pieces can give a whole space a new look. As a layer lover I am always looking for pieces that can work together. I like doing things in odd numbers. Three of something for a grouping, with each piece knowing will work in more than one spot in my home. That way I'm not tied to having it in one place even if that is the original intention OR one big piece that just commands your attention. I find more often than not, especially in the store, people tend to gravitate to buying small things [which is fine] but when they are starting fresh many small things to fill up a space can end up costing more than that 1 big piece your really loved and wanted. 
Just a thought for you...
Starting out with a vignette in the living room showcasing how easy it is to tie fabric to plants and accessories. Orchids are one of my favourite plants this time of year. They scream tropical while being low maintenance and if you get one near the beginning of flowering can last the entire summer. These amazing moss pots are found in the shop in many different styles and age beautifully. The blush pillow and the blush vase are in store and online.
To review, this is how my room looked in the fall. Dark tones, neutrals with a commanding rug. Suprisingly, I haven't taken many photos in here since Christmas so this is the most un-holiday photo I have to give you an idea of what we started with. I will take some spring summer photos of this room to share how my room turned out for spring soon.
 Sammy is modeling our first neutral look. His grey fur just models the neutral tones perfectly.
Black and white with a touch of gold. All the pieces we have used are found in the shop or online.
The white rope crock and black and white tumblers tie the coffee table to the neutral pillows and make the entire space feel cohesive and calming. The brass pot adds the punch of eclectic. The pot lives in this room all the time and I just move it to different locations depending on what I'm decorating like. Sometimes it can be mind numbing to get neutrals to tie together properly. I mean have you ever tried to paint a room white and seen how many different whites there are?  However, without putting too much focus on getting everything to match perfectly, with enough texture and larger patterns the blend should be what ties everything together. You can see each pillow in the above photo is different therefore, not having a specific seat on the couch if it gets moved around but the colours and tones are all so similar the textures and patterns all work together.
 Triangle mudcloth pillow and safari pillow
 A more complete view.
 In the vignette above. We have paired my vintage lamp with black shade with a large mercury candleholder [used here to hold orchids], another tall plant to balance the height of the lamp and a travel momento of mine [the buddha head came back with me from Bali] The moroccan brass tray in behind the whole vignette brings it into view as a single grouping. Much like a tray on a coffee table can corral all your bits and bobs a frame, tray or book behind a vignette can do the same thing.
Moving on now to a more colourful look.
 The table has been switched up to showcase a large and in charge succulent called a Stapelia. The 2 vases are a very light blush tone that look great together [available here] and heavenly when lit but tie the pink tone to the fabric on the couch. Pink isn't for everyone but it's really starting to grow on me. Specifically for this time of year.  I don't see myself as leaving pink out all year but, there is definitely something fresh about the look.
 Piilow combo.
These are all pink toned in varying degrees but work together because the large floral in the center has the pink tones in both the surrounding pillows. The simple throw underneath is white and indigo blue also found in the center pillow but, also means a pillow with that blue tone could easily be traded into this.
And... if you'll notice. One of my favourite tricks for seasonal sprucing. Change your lampshade. I obviously don't do this in every room in my house but in our living room, the darker and black lampshades get flipped out to white. This white drum shade is not an expensive option for doing so, as it came from Walmart for around 16.00. The black and gold in the previous photos is from Restoration Hardware. They are my favourite place to invest in lampshades for longevity. No see through odd patterns when lit, stiff as a board and great size options. But for white shades the cheaper lampshades work just fine as you don't really see the patterns of the fabric used.
Well I hope you enjoyed our presto chango spring do's and got a little inspiration for yourself.
Talk soon,