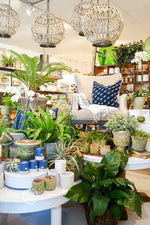 Favourite things; May edition
Happy afternoon everyone.
Time for a favourites post. Things I love in the store [and have had wander home with me most likely] and things that have caught my eye whether it be on instagram, pinterest etc..
Are you following along with me on those channels?
Instagram: @oliverandrust
Pinterest: Oliver and Rust
First up these amazing seagrass baskets. The size shown here is most easily adaptable. They look great on a wall but also for a centerpiece that is so easy breezy for summer. Throw that sucker down in the middle of the table and call that minimalist DONE LIKE DINNER!
This size available in the shop and ONLINE
This is the larger size hanging in my hallway at home. I've used them as simple artwork for a large installation as that long wall is pretty big and I was craving a more simplistic approach to the huge gallery that used to be here.
For the full reveal of this hallway click HERE
Terracotta, terracotta. It's everywhere this time of year. From traditional to modern styles. It instantly warms up a space and it's a look that has been around since the beginning and will continue long past the current trend it is vibe-ing in. The below selection is that perfect muted tone and I am in love with just the sheer amount seen here. Put it everywhere. Terracotta just gets better with age.
Our particular brand in the shop has a gorgeous moss on the outside that deepens and adds vertigris with age and different light. I am particular to the big urns and the small artichoke styles right now.
Our next shipment will contain some huge pieces as well that are perfect for the big houseplant or decking out the patio with a statement conversation piece.
This bathroom from Amber Interiors totally caught my eye. Subway tile is everywhere and there is a reason for it. Totally classic but, this beige tone with the carrara marble feels totally different yet still fresh. Of course I am a sucker for unlacquered brass as well. It's in my own bathroom at home and while you either love or hate brass you can't deny this bathroom just has something right?
The huge gate iron pieces in the shop are welded onto stands. They are reclaimed from real cast gates and make a great mantel piece. They would also look so great "planted" in the middle of a really big planter and have a vine like a clematis to grow up. Crap now I had this idea and want to do it myself.
Ugh, retail problems
Last favourite for today. Club moss, golden moss, spike moss, whatever it's called in your neck of the woods. This plant can be a fuss fart in the house but loves humidity so now that the summer months are upon us, can be added in mounds to a patio planter in the shade and it will do wonderful and be low maintenance.
This apartment is by the owners of Hammer and Spear [Kristan is from Trading Spaces fame] and that half wine barrel is boasting a pile of golden moss. Simple and fabulous
Thanks for visiting today friends,