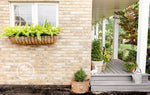 Just in time for fall.
Technically the porch has been done for awhile but, seeing as the last post here was back in July, one can assume I got a little busy and generally let the blog slip off the map a bit AGAIN. Well now that summer is leaving us, the last of the picking trips for vintage just wrapped up this weekend and we are slowing down the work on our home the blog might get some attention and hopefully get you updated on all those projects I just mentioned.
 So as I mentioned back in the reno post about this porch we decided to go with Trex decking as we knew we were looking for low maintenance and long lasting. We chose the colour island mist. It is a grey colour with black and beige undertones that suits our home and will even more so when we decide to do new windows that are also starting to creep up on the priority list as our house gets to the age where things just start slowly [thank goodness] failing and needing replacing.
To remind you where we were at back in early summer. We had a concrete porch that was cracking all the way around and the improper face brick was all breaking off from water damage. Trevor used a concrete saw to cut the ledge off all the way around prior to our carpenter Reid framing and laying the new porch.
This photo really allows you to see the colour variation present.
The black also ties in the black of our adirondack chairs. We purchased these chairs about 10 years ago now. They are generally the same type of material as the decking. With a quick soap up twice a year they are good as new. They stay out all winter and never require any effort on our part. Plus they are heavy so the wind tunnel our house can become next to a farmers field makes these guys sturdy as well.
For those following along on instagram you also know that along with the deck our front doors got replaced this year as well. We used Niagara Pre Hung for the doors [so happy with them by the way] and again Reid and Trevor installed them. I decided that I wanted the doors to be a nice crisp white. We went with Benjamin Moore swiss coffee and carried the colour onto our front poles as well. 
So for local followers don't get too excited, this mat is not from the shop. I got it at Target a couple years ago but Trevor thinks it may be sending the wrong message. We have a nasty little red squirrel digging and hiding his bounty all over our house. I've seen him chase the bigger grey squirrels, knock a bird out of the bird bath. He may need a little lavender oil or something to calm himself a bit.
 This is more of the front view to see the porch all framed up. My gardens are looking a little fall drought shabby here but now that the roof and porch etc are done, next year I can re focus my energy onto sprucing them up again. They still look great but other than weeding I haven't done much out here because they have just been getting trampled.
Another thing I tested out this year was my window box planters on the driveway side of our home. These planters make it until about July looking fantastic and then the heat and sun just murder them. This year I planted them with mounds of foxtail fern and I will be repeating this maneuver next spring. The first week the original plants got a tiny bit of burn but the rest of the new growth came in wonderful and they look like giant Dr Seuss planters and I absolutely love them. I also likely won't be changing them up for fall as they still look so good. They'll be hanging out like this until I flip to my Christmas greens this year.
Well that's it for today. Loads of new stuff planned and coming up. The store has been refreshed and revamped for fall and I will post a little tour here soon. The first of 2 fall pillow collections releases Thursday in store and online which we are really excited about. The colours are just stupendous! Yes I said stupendous.
Have a great day everyone,
Welcome to the Oliver and Rust blog. This blog is written by Meg and includes tales of the renovations of her home and the shop she owns in Fonthill, Ontario. This blog goes back eight years before the shop was born, if you are in the mood for reading, photos and some funny stories. The home you see and the decor inside belongs to Meg, her husband Trevor and Emma. If you are new here, welcome. We are glad you stopped by.