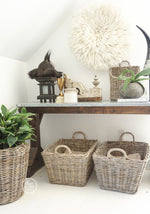 Curated by Oliver and Rust
Every week on instagram [Thursdays to be specific] we post our favourite things that have come into the shop. A new item, a vintage item, our favourite plant of the week, maybe a planter, you get the idea. It's a fun thing we started doing to bring a little focus on some of the new bits coming in and obviously from a business standpoint, peak your interest.
Today I thought I would share with you a more "curated" style blog post. Curated is one of those words I find that is a bit overused from everything on a museum wall, to decorating a home, choosing a wardrobe to taking a photo but, it is also an accurate description of what I am doing here today. These items are curated by me as part of the Oliver and Rust store but are staples . These are the items that stand the test of time despite trends. In our throwaway lifestyle where more is often more but makes you feel like less, it is sometimes important to focus on things that bring us joy in our personal spaces. 
LINEN
Linen has been around for centuries and its easy going style has captured hearts and homes for many years. It is hard wearing and looks better with age. A great quality linen pillow can instantly up your sofa game and even if you spill grape juice down the front can wash up to be good as new again. At Oliver and Rust, I am constantly looking for great linen whether they be vintage or new to make great pillows from because they are a dream to work with and in all patterns tend to look fantastic in so many homes. I also love the longevity of linen. While I may not leave every piece out in my home all year round, I know that at some point I will return to using that pillow sham and my linen towels will be work horses for years to come. I enjoy knowing that something I spent my hard earned money on isn't going to fall apart with the first wash.
Below is a selection of some of the ones we carry in store, many available online as well. 
And linen of course is not just reserved for pillows. Sheets, drapes and even towels. The towel hanging below on the door is a fantastic Turkish peshtemal that will only get softer as it is washed. Looks fantastic anywhere it is placed and doesn't really scream any one style. That means trend or not this towel will be with you and your family for years to come. I've used these peshtemals at home for about 10 years now and have a little collection going. We use them for shower towels in the summer time because they dry faster than the terry cloth towels. We pack them for travel towels as they squish nicely into a suitcase, and even on the arms of chairs for a light summer throw.
1. black grainsack pillow  2. modern farmhouse pillow  3. denim natural linen pillow  4. rousseau pillow
Next up is Mudcloth.
Now although mudcloth is seriously having a trend moment right now, mudcloth much like linen is not a new textile. It has been used in tribal ceremonies, and dress for centuries and originates from West Africa [Mali] It has also been used in decor for years but has gained a lot of traction in the past couple years for its global easy look. Mudcloth or bogolan is made from a handmade natural undyed cloth that is dyed and patterned with fermented mud and plant dyes hence the name mudcloth. It comes in many unique patterns from simple to complex and are all hand done. Most mudcloth is soft to touch and one piece can add a little bit of eclectic flair to a space. When washing, a gentle soap and cold water is best to help preserve the colours and patterns.
1. wave mudcloth pillow  2. brown mudcloth pillow  3. cowrie shell mudcloth pillow  4. black mudcloth pillow
Gimme all the baskets. Gimme all the grey baskets to be specific.
My love affair with Kubu Rattan has been going for years. It is the perfect warm grey tone that fits easily into coastal decor, traditional, modern basically all of it. Even one piece automatically lets a space have a more natural and relaxed vibe. 
The laundry baskets, large planter with dry insert and wall basket are all available in store. The wall basket is also available online here.
So that's my little bit of "curated" for today. Three beauty pieces you can add to your home and know you didn't spend your money on something that will be deemed uncool next week. I love watching trends as much as the next person, sometimes just for the hilarity of what has been deemed cool this moment. Is that a sign of getting older when trends also start to become funny?
I don't know what it is, I guess I have just settled into a point of knowing what I like and trying to make all of those things work together. I know painting my living room eggplant because it's the colour of the moment is never going to happen. It's not a perfect science but generally when I come home at the end of the day I love the space we have created for our family and that comfort of home can mean all the difference between a bad day getting worse or better.
Have a great day everyone,