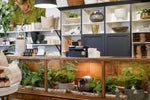 Oliver and Rust. It's winter at the shop
Winter is the season for simple beauty in the home.
It's the season for plants and easy decor in the shop too.
We clear out the Christmas pretty quick around these parts and transition into all the pillows and green.
Time for a fresh start and a fresh year.
Let's go for a walk shall we.
2020 is bringing of course pillows, plants, vintage and candles into the shop as always but we are ramping it up a bit in the gourmet food deptartment.
It's become a consistently asked for item in the shop so I am putting a little extra effort into finding some  new products and Jill and I are just having the worst time trying them all.
The counter has turned back into the fern terrarium after the holidays.
A simple organic display with a couple of "relics" thrown in.
A new product to the shop just in the past week.
Whiskey aged maple syrup.
Sounds questionable.
But seriously I almost tried to drink it when I opened the first tester....it's that GOOD!
I wouldn't steer you wrong.
Maybe not the bottle you share at brunch.
The bottle you keep to eat your midnight french toast or waffles all alone in pure blissful enjoyment.
Oy, my inner foodie got released just looking at the picture.
 Thanks for joining me,