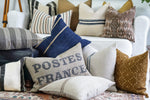 Collection 2020 No.2: Terrain
Last week we were able to release the second collection of the year into the shop and online.
This one is named TERRAIN.
Why?
I don't really know other than it just had that kind of feeling.
Earthy muted tones connecting to the sky and water. 
Looking out on the terrain.
Are you feeling it?
Generally speaking naming things, plants, pillows, cars, random statues comes pretty easy to me and definitely to Jill so we just bat around ideas until something sticks.
We get asked often in store if it's hard to remember the name of the pillows and the answer is, no not usually. 
I'd say it's harder for me to remember them because I always have the real trade name of the fabric rolling around in my head as well from sourcing everything. The occasional brain fart has me running to the computer to double check the names.
 The entire collection focuses on earthy browns and deep blues.
Loads of vintage in this set. Actually other than the new linen colours, the whole thing is sourced from vintage fabrics.
1. Leo         2. Angus        3. Sahara        4. Bay Blue grain sack 
 Left to Right above:
Sahara, Leo Karen and Barley mudcloth
1. Grey French Mattress ticking        2. Yarrow        3. Rusholm brown ikat 
I'm in love with this new mustard yellow. It can look moody with this collection but when paired with light linens, fresh white and blues it is going to be amazing with spring and summer as well.
 1. Leo Karen          2. Angus        3. Railroad        4. Bay Blue grain sack  [ the stripey guys]
An area of the shop that saw a redo from the new collection arriving.
 Loads of black and white with a dash of brown. The exciting side of neutrals.
Thanks for visiting.
Have a great day everyone,