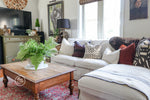 I didn't do a ton of "fall" decorating this year and in fact, have quite a few pumpkins still hanging out in a bin labelled "fall" in our basement. With little hands running around our main floor I kept the tables within reaching distance simple with plants or bowls and just went full boar with the textile overload. Our home feels cozy and fall like and with the impending Christmas retail season, it just felt easier to me this year. I love our home in the fall as I have probably said many times over the years writing this blog and the colours just suit the taste of our home and its furnishings.
 Recently I have been thinking about the evolution of our home as this year specifially more than others we have really purged a lot of items we have had since we moved in together  13 years ago as we made the studio above our garage and lost our, out of sight out of mind attic storage. It strikes me that while our style over all is more streamlined now to suit the home we live in, there are still a few pieces we have had since the beginning. The point of my little diatribe here is that I /we get asked all the time in the store a lot of different things but some questions just become common. 
How do I find my style?
 And while there is really no straight forward and easy answer to that question, and it will probably beg its own blog post in the near future as I've thought about it. One thing is for sure, in order to know what you like it often helps to start with what you don't.
As a home decor enthusiast and retail store owner, I get to see all the styles there is. I enjoy many of them and can appreciate the ones I don't like for what they are. Doesn't mean I will ever have a chair shaped like a ball to sit on in my living room. I also won't ever have an all white home becasue of my affinity towards black.
Seen here my antique green buffet I painted years ago in Miss Mustard Seed milk paint [boxwood] is not for everyone. Having a green piece of furniture is a commitment for many. We in fact have 3 pieces of green furniture in our home [we may be green lovers over here]. The beauty of buying vintage in this case was the buffet was inexpensive and loads of manual labour which in my case was free I got to create a loud piece of furniture that realistically if I hated could be changed out.
In fact when I was painting this piece I wanted to burn the thing as painting with milk paint can be a test of patience and will to see who is going to win. I tried to find the original post of my cursing at it but for the life of me it's lost in the years of blogging. If I find it I will link it here.
This buffet is going into it's sixth year being green and I don't see it's future changing right now. 
 I added a grainsack table runner to our table for fall. Decadent yes! But can that runner take a beating, also yes! Grainsacks had a life of hauling grain and seeds from farm to market and they can take life, have stain remover thrown on them and come out good as new with little wrinkles and be ready to go again.
The vintage bread board from France holds the center of the table steady for a candle vignette. The big black lanterns I adore. They were an item we carried in the shop the first year I was open and I move them all over the house depending on the season. And nothing is screaming fall in here like those black taper candles that light up our dinner life.
 Another part of my style that has evolved over the years. Plants!! Yup I've had my fair share and killed my fair share and as the weather cools a lot of my plants had to make the trek indoors. The eugenia topiaries and myrtle topiaries get pride of place next to the windows in the dining room. Using antique piano stools and old industrial gears to get them up off the floor helps get them closer to the light. I love the look of the antique olive baskets in this room. It ties together with our industrial shelf and the slats in the side of the bucket allow air to circulate around the plant as well after I water it.
 Kind of the entire view here. If you've been following along for awhile, you get what I mean by our style being pretty consistent. The furnishings have remained the same since I added them in here. I am a completely impatient person [just ask Trevor] but am also willing to wait and/or pay for the perfect thing that I think will work. Knowing and being comfortable with the style you love means you're more likely to invest in something and keep it for a long period of time instead of playing the buy, change your mind, throw it out or sell, buy something new constantly game.
Don't get me wrong I love the shopping adventure and changing things up too but not really for the big pieces. I'm a lover. I want to love the big stuff so I can circulate my ever changing collection of smaller, vintage and seasonal things.
 Our living room with a gigantic fern bowl centerpiece. This autumn fern lived on my front porch all summer so he's slightly large but honestly that fluffy wonder just looks happy sitting in the middle of the table. As a side note, Emma loves plants and sniffing the "fleur-ers" so having a big plant there gives her something to sniff and laugh at too.
 The textile collection for this season. I am pillow schlepper so of course there is no matchy- matching here and bring on the pattern.
Left to right: vintage cream, Naga tribe, Safari, Restoration Hardware french canvas, Rust velvet [will be available again come Christmas], and  Kubu cloth.
The wool blanket with black stripes is also available in the shop.
Another consistent in our home is our love of vintage. We pair it with new pieces but most of the things in our home we can recant where we found them, the stupid stories that go with them, the travels we were on at the time. The antique dough bowl on the factory cart table holds a couple of rusty metal leaves and nothing else. It's super simple and still says fall. That dough bowl has literally been in almost every room in our house.  
Our fall mantel for this year.  I guess I did take out 3 pumpkins. There's 3 soapstone ones hanging out by the water pot. See I didn't totally scrooge fall out.
Snake plants in old army bags and wooden tic tac toe games [this is a Canadian company and this game is awesome and so well made] all working it on our African Bamileke stool. A pillow on the floor you say? Did she put that there just for the photo? You'd think I was that sneaky but no, that pillow actually sits there because Emma grabs it and many others, makes pillow mountains and then carries her toys over to the pile and sits on the mound to play. This pillow is our autumn siesta pillow and I love the colours of it so yes I enjoy it here but it does have a purpose.
It's the sneaky little bits that people don't always see on first glance. It just looks like a bunch of decor piled around the room but in the above photo I see the table that we built ourselves, green stools we collected on picking adventures, a buddha I made Trevor put into a shopping cart with another to lug through a mall, a sword that doesn't seem consistent as our home really isn't medieval but it was one of the very first things we bought together on a trip to St Jacobs 18 years ago and on it is Franklin's collar hanging as a memory.
 So I guess the point of all my chatting today is that just because your home isn't my home and vice versa. Maybe you love all new, maybe you're a minimalist, maybe you just don't understand or like the african pieces, it's absolutely all good. You know what you don't like and that means you're a step closer to finding your own style.
And when I say your style I do mean yours! Not your mom's, sisters, best friends or favourite person on instagram. Throw some spins on things and make it yours. 
We had new doors installed this summer and I got the outsides painted almost immediately but the insides are still bare wood. A project to get off the list maybe this coming weekend. Maybe. It's honestly not bothering me that much as just having a functioning door without a giant dent has been the thing I wanted the most.
Well everyone there are about 30 boxes of Christmas stock calling my name and topiaries that need planting so my house and I are signing off for today.
Have a good one,