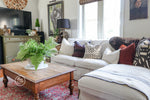 A new dude joins the party
That's right, a new dude.
I was out at an estate sale hunting for the shop and this casual gentleman was just hanging on the wall being ignored by everyone. I got one side eyed glance in at him and that hat,.....oh that hat just called my name.
My penchant for weird oil portraits and old photographs of people I am unrelated to knows no bounds. The crazier or wilder the better.
So if you recall, after my fall house tour. This space here was perfectly adequate and really needed no extra pieces or faces for that matter. However, this painting fit right in AND as an added bonus is nice and light to slide over and hide our thermostat. A perfectly normal piece of a house but sometimes drives me nuts. Yes I realize that is also nuts but what can I say, I'm half squirrel.
I mean again, look at that stinkin' hat. It's fantastic.
 So the funny side part of this story. Like I said everyone was ignoring this guy on the wall and when I took it down and went to pay, the woman running the sale asked what I was doing with him. 
My response was "Hang him on the walls with his friends"
She stared at me for a minute and then burst out laughing along with the people standing in line behind me. I guess she thought I might be kidding but she's seen it all in the collector world as she's run estate sales for many years so my collection of random people isn't super weird to her.
 Which gets us onto the subject of collections. Collections are that thing that make us feel a connection with something. It deosn't neccessarily need to be weird or old but generally everyone in the business I am in, everyone collects something. From brass animals, plants, bird statues, vintage bar ware, ironstone, jadeite all the way through to Santa figurines.
Organized collections have a way of grasping your interest and making you curious about the items as well as the person that is "hoarding" them.
Trevor and I have many collections and rotate through them often but for the purpose of this post you get to see a couple of my collections of "old men"
The husband and wife above grace the wall outside our upstairs bathroom and office.
 I remember when we originally renovated this main floor bathroom and it was featured on Houzz. Many people thought the voyeurism of all the old men on the walls might make them too creeped out to take a bath. I think of it more as company than creepy. To each their own right?
The lovely couple above I have told the story before but for the sake of ease will be brief and tell it again. I bought the gentleman at an auction one week because he caught my eye and no one else wanted to take him home. Two full weeks later, totally separate auction I bought the woman.
When I got home and was studying the back and the names and dates, these 2 are actually husband and wife. Their portraits were separated somewhere along the way and my "collecting" habit brought them back together. I hung them in the bathroom starting at one another again reunited. It's like a Nicholas Sparks novel in my bathroom.
The above photo is from the fleamarketstyle instagram account but belongs to the home of Jesse Lauzon in Toronto who is probably the king of collections as well as making those collections look amazing together. Also his writing on his posts is hilarious so might be worth a follow if you're also a vintage and collection lover.
Well, I'm leaving you with pumpkins on Halloween night.
Enjoy and gorge on all that candy for tomorrow the world starts slowly and mentally flipping to all things candy cane and Christmas.
Welcome to the Oliver and Rust blog. This blog is written by Meg and includes tales of the renovations of her home and the shop she owns in Fonthill, Ontario. This blog goes back eight years before the shop was born if you are in the mood for reading, photos and some funny stories. The home you see and the decor inside belongs to Meg, her husband Trevor and Emma. If you are new here, welcome. We are glad you stopped by.