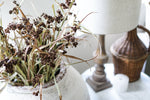 Fall at Oliver and Rust house
Did someone say it's fall? I could have sworn summer was just here shining on our life with warmth and all the beautiful plants. But, alas I missed a couple days in the hub Bub and now it's solidly fall and good grief I am going to say it because I am a retailer but it's also almost Christmas. Like in a few days.
Here she comes with sleigh bells and sparkle on.
Today though I am walking around my house and enjoying the colours of the season. The cleaned up version of texture and fall. I commented a couple weeks back that I used to go all out with the fall decor. The pumpkins, the gourds, the leaves. The bin is still hanging out in my basement and every year I pick a couple of my favourites out of it and bring out the leaves. I go for the colour rich and texture version of fall now. I think it partly has to do with all of the "things" I am surrounded by in the store all day long that when I come home I am going slightly more minimalist. I say slightly because there is no way in hell I will ever be considered a minimalist. Nor would I want to be. The lived in collected version of our home suits us to a tee. The style changes ever so slightly as time goes on but generally it still reflects us.
I needed to take photos yesterday of a few "new" products in the shop and some of these items also live in my house so I nabbed a few extra photos.
So let's see what it looks like in part of my abode for fall this year. See if you can spot the goodies the accidentally landed in my car from the shop and took the tour home.
Welcome.
This was one of the photos I needed for a product. The old amphora jar on the floor of our front hall actually sprung a whole mini flip around in the front hall. Switched a chair from somewhere else in the house, moved our barrel table, dragged an urn in from outside, added a plant, you know... a basic Sunday morning. I love finding the perfect spot for things.  Or the perfect spot for now. Also love the looks Trevor gives me when he walks in from outside and I've trashed half the house when I was just going in for a drink.
 Our living room. Fall coloured pillows, cozy textiles and the collections that make us happy. I added red faux leaves into a few of the vessels and bada bing it looks like fall.



Emma is really good with decor. She doesn't really mess around with things. The centre of this coffee table is still simple and kid friendly anyways. The dough bowl is layered with a striped grain sack and some metal leaves. It will likely get loaded with vintage Christmas ornaments in the coming weeks. I try to sniff out dough bowls of all sizes as constantly as I can for the store. Two just got loaded into the online store this morning. The huge ones are easier to come across than the small ones [I have no idea why] these days but I love how they look no matter their popularity. This one has been all over our house in almost every room at some point over the last 10 years.

 



Dried weeds. Nothing better for fall texture. Oh and free.




The dining room is also simple right now. A very large antler shed stands on the table. I'm always amazed that an animal can carry this around on their head. No wonder they shed them after awhile. It's like taking your hair down at the end of the day.





Thanks for walking around with me for today. I hope your fall has been splendid and you are getting ready for the holiday season. It's going to be a cozier one this year with more movies than usual. Good excuse to deck those halls and make a pile of cookies.