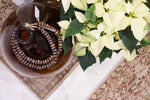 The holidays have arrived.
It came like Santa on his sleigh and the store lost it's autumn splendour in favour of glitter and a whole ton of poinsettias.
My vision this year for the shop was a traditional natural Christmas with a bit of the vintage eclectic thrown in.
Loads of greenery and always a good portion of Dasher thrown in.
Welcome to Oliver and Rust Christmas.



Thanks for walking around with me.
I am excited to welcome everyone for another Christmas season in the shop.
The shop local vibe is strong this year and we are so thankful for that.
See you soon,