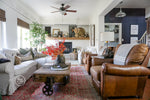 Those that follow along on instagram know that we recently undertook refinishing our main floor living space. There was nothing wrong with it, lets call a spade a spade and say I was bored.
I also heard all the yelling messages at me when I was talking about the vintage rugs that I need to do a house tour so here's a bit of it.
The colour our living room had been for the last 8 years was a lovely light greige called Baby Fawn by Benjamin Moore but it was time for a change. With the amount of collectibles we have and  my eclectic taste in vintage rugs the walls were calling for a bit of white to calm down everything that was visually happening with all our stuff. The fireplace also got some updating. We painted out the brick the same colour as the walls and then refaced the front to make it look more like a mantel instead of just a piece of trim. 
The fireplace and mantel I will do another post to share the process for those that are interested in painting their own brick but for now let me just say the himming and hawing I did for years and the gentle working myself up to painting out the brick was a waste of time because we love it. The wall of brick looks much more apart of the room now and not just like a wall of brick. I think if I'd had that nice brick without the peach undertones I may have left it but, it just never totally felt right and so white it went.
 The room and really our entire main floor is now Benjamin Moore White Dove. The "colour" tone works in our home and doesn't appear too blue or yellow but just a nice soft white.
We also got a paint sprayer and sprayed out the massive Oliver and Rust Antiques sign I made with my dad years ago when this blog just got going. The grey stain stood out like a sore thumb after we did the walls. 
 The factory cart coffee table got moved into this area as we eliminated the second coffee table on the other side by the fireplace.
Rico's dog bed now takes up the square footage of a coffee table and he gets pride of place right in front of the warmth for the colder months. I kicked him out to take pictures but that's the truth of the matter.
For a touch of dramatic we left the black chalkboard wall. We don't actually draw on it but it gives that zinc-y kind of appearance and makes the modern artwork on it pop a little bit more.
Where's the toys you say?
Ah, tricky tricky. That massive cabinet on the right holds my massive collection of scented candles and votive holders in the top and the entire bottom is books, train sets, monkeys, colouring tools, lightning mcqueens. There are also various baskets and planters around the room for her to toss her stuff into at the end of the day. This is a pick up your stuff household. We play hard and make a mess but before we go to bed we clean up our things and she knows where it all goes.
 No real change outside our laundry room. Trevor put his foot down and wouldn't let me move the birds because he really likes them here. I don't suppose all the work in moving the french cleats they hang on had anything to do with it.
The vintage measuring stick on the wall is actually one we turned into Emma's growth chart. We aren't great with the dates but every once in awhile when the mood strikes we pull it down and see how much of a weed she is growing like.
Of course, the pillow pile up. All from the shop.
 A full frontal closeup of the refinished mantel and fireplace wall. We both love how much we can see our rotating collecting of goodies now. Off the left behind the green chair you can see the corner where I raise my myrtle trees.
A main feature of our room before was the tiger paintings we have collected from a local artist over the years. We love these paintings and while I did put a couple away I still wanted to display them just not on the mantel anymore. I pulled the ledges and gallery wall down that was here and hung 3 of them right in our entrance. You can see Rico sleeping just off to the side in the front hall where I relegated him to take all the photos. 
Well that's about it for today.
Like I said I will get back on here and share some before and after photos (because those are always fun to see) and some in process pictures of how the mantel and brick went down. I will refrain from sharing the pictures of us in painting clothes at 11pm cracking one liners from Seinfeld because we decided to watch them all from the beginning.
Have a great day everyone,