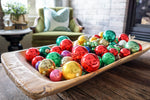 Christmas House Tour Part I
This year's Christmas house decorating was completely a strategy of timing. Having a small person at home means that completely ripping my home apart for 3 days from top to bottom, doing a deep clean and leaving mountains of things laying all over the floor does not happen. Decorating the shop, doing open houses and decorating a full house tour also meant that I didn't really have those 3 full days to leave my house and family in shambles.
And you know what?
I did one room a night this year for a week until it was done.
I enjoyed it more, it felt much less stressful. I had the music playing and got the cleaning I wanted to do done. My house looks like its crossing a border for a week being half fall and part Christmas but it just felt less stressful to get it done. Maybe that was all in my head.
I have my bins organized into rooms generally so this wasn't that hard to do as I just carry up the one I want, fill it with the regular decor I put away for the season and take that bin back downstairs.
 I'm not sure I went with any real theme this year. I love my Christmas decor that we have been collecting for years so, don't change too much other than the pillows and maybe add a couple things here and there.
 Our mantel is very neutral this year with our giant vintage brass deer, greenery and tigers. Because don't tigers get to celebrate the holiday as well?
The green post mailbox is from the store and available here and similar fox as to the hearth here.
The Christmas armadillo. 
 I filled our antique dough bowl full of vintage ornaments, did the strong NO discussion with Emma and the dog and so far so good. No one has even looked sideways at the bowl so I'm calling that a win. The pillows on our vintage green velvet chairs are the Balsam Medallion from the shop and I really love that they appear holiday at this time of year but will work great in the summer as well because of the lightness of their tone.
And for the plant people, let's just ooh and aah at the sheer size my staghorn mount is getting to. It needs a remount but I haven't grown the courage or time to do so yet. The fronds are continuously growing and it really loves this spot. It gets watered every two weeks this time of year and a good healthy soaking mist twice a week.
I went green with a side of green for my pillows this year. Gimme all the green I say.
From left to right: Chesterfield green [not available at time of post but is in next collection so link will be updated when it is], Royal apple, an ikea green from 6 years ago or so, another apple green from last year, Royal Forest and a damask velvet I made for Etsy many years ago. 
One of our elves looking over the living room.
 This sign made a home on our chalkboard wall outside our bathroom and I just love how simple it brings Christmas sprirt but isn't glaring in this spot.
The signs are from the shop this year and I just tucked some faux greenery in the top.
Our upstairs tree. Not much has changed this year as I like the way our tree looks year to year. A smattering of fancy ornaments, many we have collected on trips, elves and natural branches. 
I didn't do the large greenery on our media cabinet this year so instead did a collection of votives, another Santa elf we have had since the first year we decorated for Christmas as a couple 13 years ago and some bells I bought from Target last year.
 That silver mercury votive is from the shop new this year and is my new favourite nightly light-er. It has such a great glow but I think the neck on it is what attracts me the most as it's just a bit different than usual.
 I used a real cedar garland wrapped along the console table in our hall to the front entry. Tucked into our table of eclectic goodies with a water pot, buddha and an old painting.
Well thanks for coming along in our Christmas living room tour.
I will post the rest of our main floor in a separate post to not pile on the photo barrage.
Hope your Christmas decorating is coming along at the pace you wanted and making you feel the Christmas spirit no matter how little or lot you decide to do.
Have a great day today,