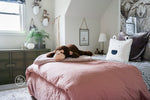 It's been awhile in the making.
Our little girl got a little bit bigger when she graduated from a crib to a big girl bed in December. 
At the time in the midst of her birthday and Christmas it was really all we did.
We found a mattress and a frame and plopped it in.
It gave me time to think about how she uses the room as her little three year old self and how she'll use it for the next couple years.
She gravitates towards the colour black [girl after my own heart]
and pink almost always, and the love affair with everything monkeys just continues to grow.
Here is what we came up with.
I say we because although I had veto power, she did get to pick things with a yes or no.
I am also going to put in a little disclaimer right here:
That lamb print is from the store.
It is an orderable piece through the shop.
It takes about 4-6 weeks to be ready.
It is not shippable.
It comes exactly as shown in that white frame.
Yes it's as lovely in person as it appears.
For further details you can email me. 
Oddly enough, not a single of my pillows made it into this room right now.
The rose duvet and pillow covers are from Ikea, along with the table lamps.
The colour isn't too baby pink and went perfectly with the black accents I was looking for.
The patchwork shams and large velvet sham are old West Elm I had stashed in the cupboard, and the teddy bear pillow is from a local store. 
I did a major shop the cupboards before buying anything to redo this space.
 One of the other things we did out of necessity once the bed went in, is move the shelves on the wall.
Not an issue for a short three year old but, walking around the bed turned into a bit of a shoulder whacking nightmare so I kindly nudged/ shoved Trevor into moving the shelves one Sunday.
 Emma loves the plants in her room and pets the huge plumosa on her dresser.
 The shelves ended up in this nook beside her closet on the other side of the room.
I purchased this little table and chair set on Amazon.
I couldn't find one in our area I liked or that wasn't fluorescent something and the little lift off center with the toy catch in the center of the table of this one really caught my attention.
I saw these end tables on a round up of Chris Loves Julia and they were available through Walmart in the Usa.
Of course, not the case in Canada. Walmart in Canada is NOT Walmart in the USA.
I got the name and hunted them down and available to Canada they were shippable from Wayfair.
Also, in a cute twist of fate they were named the Emma Lee nightstands on Wayfair
(the little girl who lives in this room is named Emma Lee).
The drawer in this particular one holds all the required night time stuffies including but not limited to,
a large Lightning McQueen, multiple extra monkeys, birds, race cars and  whatever else the night calls for.
We are super happy with how the space turned out and while this really isn't so much about regular decor or the store,
our kid's spaces are fun to decorate as well so thought it would be fun to share.
Giving our little girl the space to grow up in that suits her personality was fun and the bonus is she loves it.
Have a great day everyone,