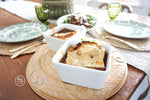 WHAT'S FOR LUNCH: lentil soup pots with parmesan salad
The weather is doing a turn for the better and generally soup is going to become a memory of the not so distant past for awhile as we dive head first into fresh salads and bbqs but this perfect lunch or simple supper still fits perfectly with our cool nights of spring.
This recipe has been adapted from The First Mess Cookbook by Laura Wright we have in the shop.
I have posted other recipes from Laura on this blog and this one is no different in its delicious factor however, I am adding a note for these in particular. This book is "plant based" meaning generally vegetarian/vegan which I am not. My family and I are conscious consumers of meat and dairy products however the recipe adaptations incl dairy products which are not included in Laura's original recipe.
French onion lentil soup pots
Ingredients:
2-3 tbsp olive oil
2 lbs sweet onion sliced
2 tsp minced fresh thmye
1 bay leaf
1 cup dried lentils [we used green]
1 tbsp tomato paste
1 tbsp balsamic vinegar
1 tbsp soy sauce
salt and pepper to taste
4 cups vegetable [or chicken] stock
1/4 cup almond milk
8 thin slices of ciabatta loaf
1/2 cup good quality parmigiano reggiano
Directions:
In a large heavy bottom sauce pan, heat 2 tbsp of olive oil over medium heat. Add the sliced onions to the pot once heated. Saute the onions until just starting to soften, about 3 minutes. Lower the heat. Slowly cook the onions, stirring frequently until you reach a light brown, slightly jammy consistenty. This takes about 40 minutes.
Scoop about 1/3 of the onions out of the pan and set aside.
Increase heat back to medium and add the thyme, bay leaf, lentils and tomato paste to pot and stir to combine. Add the balsamic vinegar and soy sauce and use your spoon to scrape up any browned bits from the bottom of the pot. Season the mixture with salt and pepper and add your stock. Cover and bring to a boil. Lower the heat to a simmer and cook until the lentils are tender, about 20-25 minutes.
Make salad.
Remove the bay leaf from pot and discard. Divide the lentil stew among 4 ramekins. Place the filled ramekins on a baking sheet.
Preheat the broiler to high.
In a blender or mini food processer, combine the reserved onions, about 1 tsp olive oil, almond milk, salt and pepper on high until you have a chunky paste.
Spread the mixture over the loaf slices and top lightly with parmigiano and top each ramekin with 1-2 slices
Slide the ramekins under the broiler for approximately 1 minute until browned.
Serve hot. 
Now if you are truly upping the lunch factor and making a fancy salad as well to mate with your lentil pots. This salad will pair beautifully.
Ingredients:
PINE NUT PARMESAN:
1/2 cup raw pine nuts
2 tsp lemon zest
1/2 tsp garlic powder
salt and pepper to taste
SALAD:
1/3 cup olive oil
1 clamshell box of fresh arugula [or arugula spinach combo]
1 lb cremini mushrooms stemmed and sliced
1 can chick peas rinsed and drained
salt and pepper to taste
2 cloves garlic
1/4 cup balsamic vinegar
2 tsp dried mustard
1-2 tbsp honey
Directions:
Make the pine nut parmesan:
Combine all parmesan ingredients in a food processor on high until you have a crumbly texture and set aside.
Make the salad:
Heat 2 tbsp of olive oil in a large saute pan. Toss all the mushrooms into the pan and let them sit for about a minute. After a minute, stir the mushrooms and let them sit a minute again.
Add the salt and pepper to taste and chick peas to the pan. When the mushrooms start to wilt slightly, add the garlic to the pan. Stir the mushroom, chick peas and garlic until garlic is fragrant.
Add the remaining olive oil to the pan along with the balsamic vinegar and dried mustard. Stir everything to combine. The mixture will be moist and lightly juicy.
Plate the greens either on one big family style plate [as shown] or individual plates to serve. Top greens with mushroom mixture including liquids, pine nut parmesan, a shaving of parmiagiano and a light drizzle of honey.
Serve warm.
Other additions: this salad does wonderful with the addition of dried cranberries or fresh strawberries. If you have or have made, a light drizzle of balsamic reduction further ups the indulgence factor on top of this salad.
Thanks for eating and joining us on Oliver and Rust today.
Now that you're hungry go make your grocery list. I actually made the salad for the umteenth time last night with my roasted vegetable sandwiches [recipe coming soon] and it's a real keeper!
Have a great day