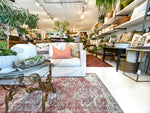 Time for a little spring walk about in the shop
We have way past officially been closed, more than open this year.
As we approach the half way point to the year, it's a great time to share some photos of the space that I call a second home and to sneak in some photos of what it looks like all steady and silent waiting to hear the doorbell ring again.
This stay at home order surpassed all the others in length and saw a definite shift in weariness for all.
I am thankful I own a business that is able to operate behind the scenes as well as the customers to back it up.
I think I speak for many of us though when I say this time around we are all just done.
Ready to get our shit together and move on with this story.
Business owners, shoppers, parents, grandparents, kids who have had life upheaval, being able to pick up a can of spray paint when you need one.
Just done.
I think this story is going to have a plot twist for the good very soon though so, our patience and days of complete and utter impatience are coming to a close.
All those positive thinking posts out there that make you want to think positive or make you want to toss your phone are going to come to fruition.


I can feel the itch to change the store up again and the funny thing is, not a soul besides the people who work here have even seen it in person.
The timing lines up with the start of a new season for me to want to change displays but I think I am going to rein that horse in and allow people to actually get to enjoy it once we get our tushies open in the coming weeks.


Let's take a simple walk around today though.
It's still through a screen. 
A year of asking social media to have a scratch and sniff feature has gone unanswered but the view is still on offer.


Welcome to Oliver and Rust spring!
I chopped these amazing FREE branches and added them to a huge pickling jar in the center of the store. Emma walked into the shop and remarked I may have chopped down a tree accidentally. It's large and in charge.
Thanks for walking around with me today.
Have a wonderful long weekend everyone as we kick off into summer.