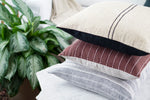 The fresh start collection of pillows
Aptly named as we all had hoped that with the stroke of midnight the slate would just be wiped clean. And while in reality we knew that wouldn't be the case, it was a nice thing to think about.

With the end of the holiday season and the cleaning that goes hand in hand with that, a fresh start on pillows might just be what the doctor ordered.



The fresh start collection is a gathering of vintage and new with a return to some blues as well.



The Slate Euro with fringe is paired here with Adler and Blanche. It's nice to throw a little bit of pattern into the vintage fabrics. Of course all the plants and vintage pots don't hurt either.
The Minor Stripe linen pillow cover in the back left corner is a striped heavy linen. It's the first time this fabric has been in a collection but, it has been our duvet cover at home for over 10 years. If there is one thing we can say about linen is it is timeless in its durability. Wash, iron and repeat and it just keeps getting better.

The blues from left to right: Windowpane, Midnight Naga, Indigo and Agnes.


Who's your favourite?
Have a great day everyone,