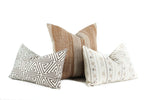 Summer Santana: The Latest Collection of Pillows at Oliver And Rust
And just like that 2 months have gone by since the store got re opened.
This year is more than half over and it's been the weirdest longest curviest sometimes ill advised roller coaster ever. 
The pillows just keep coming though.
This past week, the Summer Santana collection was released into the wild.
This one is a neutral but textural mix of vintage and new fabrics.
No blue in this at all but that's because we have some special blue ones coming soon.
I was really feeling the summer terracotta tones with this collection.
I got the sample for Calypso, fell in love and everything else came into place.
The whole lot of them up in the home studio.
For those that are new here.
The pillows are made in the Oliver and Rust studio.
The space lives above my garage at home and is where the pillows come to life, and where many of the photos for the online shop are taken.
The pillow that started the engine on this one.
An amazing designer fabric backed with our Terra linen.
It's a great warm one for summer but just think of the tones for Fall too.
Yum. Pillows can be tasty too.
 The center star in this one is
Santana. 
A heavy weight durable grey and ivory beauty.
Well that's a bit of an introduction for you.
All are available in store and online.
Just click any of the links or pictures to be taken right there.