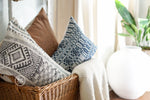 Hi everyone, 
Our bedroom at home has been through a couple very slight transformations over the years but nothing really major. I have said it before here but I usually shop around and find something I love and stick with it for a good amount of time [other than pillows, those are fair game for changing constantly].
When we moved into our house our bedroom was one of the first rooms to get completed but then I started on my white paint kick about 7 years ago and refluffed the room. I purchased antique side tables that would work for us as end tables, painted them and kept them in here for all the remaining time. I really loved the look of the tables but they always felt a bit small compared to the stature of our bed. Our bed is only a queen so not massive in comparison to a king but the frame itself is beefy.
While working my way through a showroom last year I fell in love with a simple gold and marble shelf. Technically not an end table but the look and size were perfect. You may know my affinitiy for gold and marble at this point....
Also these shelves had a bit more of a modern look to them so would give our room that little push of modern as well. Our home and style is not modern at all but I do love the touches so that the whole appearance doesn't feel old or overly antique-y.
I started saving my pennies for these beauties and timing as well as they needed to come up with an order for the store or the shipping would have been slightly murdersome. The tables themselves because of the solid marble slabs probably weigh almost as much as our bed frame. Trevor was super impressed when we had to carry them up the stairs. My goal in life of buying all things massive and heavy is still generally intact let me tell you.
So now our "grown up" end tables live beside our bed and complement the visual weight of our bed.  Yes I can hear you thinking it. How many pillows can one have? Oh my friend, a friggin lot.
I riffled through my archives and found the last photos that weren't Christmas of my bedroom. My bedroom hasn't appeared on this blog for 2 years, yikes. Above is a 2 year old BEFORE, and you can see the pretty grey tables. Like I said super nice and that spindle on the bottom.... but next to our wood bed they were always just a smidge small looking. The lamps were a purchase many years ago through Pottery Barn and as the mood strikes me I change the shades depending on the season for updating the look. 
 Currently they are sporting these overly tall white shades.
Along with carrying the tables up the stairs, that massive white urn was also a sport in entertainment getting upstairs. 
Simple decor on the tables including books I enjoy perusing and planters, wood bowls etc from the shop.
The artwork on either side of the bed is a bit tribal and a bit modern. Both pieces are also available through the store.
 My antique wolf judy sports some of my daily wear necklaces and a denim scarf, you know to help her fit in with all the other blue bits. Wouldn't want her to feel left out.
 The pillows. Oh the pillows. All the pillows are made by me. French mattress ticking fabric, antique quilt fabric and oatmeal linen euro shams. The linen euros are available in our online shop as well.
 It feels good to be a little grown up and have saved for another thing to love for many years to come.
Now if it was only time to get back into bed and snuggle but alas, back to work.
Have a great weekend everyone,