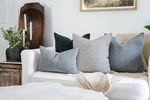 Neutral pillows: adult teddy bears: you choose
It's that time again.
Another load of pillows graces our shelves.
I've washed, I've cut, I've sewn.
The team has flipped, de threaded, ironed and tagged.
This collection features mainly pillows made in house with a healthy sprinkling of vintage pillows recreated from vintage rugs in the best recycling of pretty.

Enjoy!
The vintage Fawn pillows got a restock, some with a bit of fun fringe detail. Paired here with a brown vintage rug  pattern.
Oh hello you lovely pattern.
A great graphic charcoal black and cream designer fabric that works perfectly in any season. A couple of them in nice generous euro sizing as well.
This collection definitely has us yelling "gimme all the neutrals" and I love them. Not because I don't like colour. Team Green right here however, I find myself and my customers drawn to the neutrals. Partly because when investing in good throw pillows from the inside insert to the pretty outer details neutrals tend to walk from season to season and room to room very well.
Many all showcased up in the shop. We did a mini redo getting them onto the shelves as we are also prepping for a huge load of new things [some I'm keeping under wraps until they arrive safely].
Now, how to choose who gets a spot on the couch and who gets to snuggle on the bed.