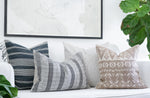 New pillows......Give us all the pillows
Like we need a reason to add new pillows.
We will call it spring cleaning.
That's this weeks reason but, truthfully we are pillow enabling all the sofas and couches and forts.


This past week the latest collection arrived in store and it has been great to see everyone coming out of winter hibernation.
It's still a weird time but we are going to safely ignore that and just move on.
Right?!
Let's talk pillows.

This collection just didn't get a funky name. I don't know, we dropped the ball over here. The best I could come up with was spring fling and that just wasn't doing anything justice so it became nameless.
Nameless didn't make the fabrics any less fantastic though that's for sure.
A heap of the new guys on photoshoot day. Threw some great vintage vases in there for texture and a happy pile of fabrics was made. 
This pile on the sofa features a vintage rug pillow as well as the new Greta green pattern. It's a soft cotton imported from Thailand that has a creamy white simple pattern on it. The fantastic wool pillow with the tassels in the front sold almost immediately but luckily there will be more. The wool is handwoven in India using sheeps wool. This means it of course isn't the softest pillow in the world so husbands might be yelling about this beauty but, it deserves a place on that chair that needs a statement something.
GRETA
A mix and match of this collection as well as previous. The goal is always to have the collection work together no matter which pillow you choose, but having it work with existing fabrics as well as ones you may have bought previously is also important.
With this collection, we also released 2 new colours into our linen lineup. Tuscan which is truly a warm clay colour as well as Fig. Fig is a soft grassy green. It pairs up great with our deeper green Moss and we find it looks great for spring. It got snapped up pretty quick so more is definitely in the works as soon as the fabric comes in. Definitely the fun part *sarcasm* of navigating this pandemic world is backorders and supply. Where previously I could flip an email out and order pretty well whatever, things are on backorder or not available anywhere from weeks to months. 
It's definitely made my job a little more fun. Planning has gotten a lot more loosey goosey with multiple back up plans when things don't work out.
All great pillows need a throw blanket somewhere. The
Black stripe cotton throws
are large enough for the foot of a bed or tossed on the side of the sofa. In our case here, tossed over a
leather bench
.
Thanks for stopping by today and enjoying some pillow love. I hope you have a fantastic weekend and have gotten some inspiration. Even if not to buy anything new but scan your pillows for a new idea of things to whip out of the closet.
Talk soon,