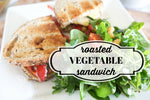 Meg's Roasted Vegetable Sandwich
 It's summer living and that means give me all the fresh vegetables. Like right now!!
This sandwich is perfect for lunch but oh so amazing with a simple salad for supper on the patio with a big pitcher of sangria or arnold palmers..... maybe a cold beer. Ugh, who can decide but either way this is an easy throw the veg in the oven when you get home, take it out 30 minutes laters and bada bing you're in business.
It's my personal concoction, made more fabulous with lemon garlic aioli we carry in the shop but any aioli would be wonderful. Bonus points if you make your own with all that garlicky goodness.
Ingredients: [dinner for two; increase for more people]
heirloom tomato sliced if in season or any combination of your favourite types sliced up
one zucchini cut into long strips
2 red shepperd peppers cut into think chunks or long strips
2 cloves of garlic peeled and smashed
1/4 cup olive oil
salt and pepper to taste
goat cheese
slices of your favourite bread
aioli [i use a lemon garlic style that's a favourite from the store]
 Process:
Preheat oven to 350 degrees. (Could also do this on a preheated bbq in you don't want to heat the house in the summer. Turn burner off on one side and heat to turn bbq into an oven. Place dish on non heated side]
Place all sliced vegetables in pyrex dish. Stir and mix with the olive oil, salt and pepper.
I like a lot of pepper with this but use to your liking.
Place dish in the oven and roast vegetables for 30-35 minutes.
Vegetables should be fork soft and fragrant when they are done.
When vegetables are 5 minutes from completion, place a light or heavy amount of crumbled goat cheese on one side of bread and aioli on the other for each sandwich. Use toaster oven and toast bread until cheese is light and bubbly. No toaster oven? Pull the vegetables when done and broil your toast lightly, again until the cheese is bubbly.
Add the roasted vegetables to one side, close your sandwich up, slice and get ready to enjoy your masterpiece.
Serve with a simple salad and that's dinner.
 Now I'm hungry and don't have the ingredients with me to create this. 
C'est la vie.
Have a great day everyone,